The perfect password manager¶
TL;DR: Use a Yubikey 4 with touch-to-sign to store your GPG keys, and use these keys for SSH authentication and storing your secrets with password-store.
The problem¶
For a long time, I've been searching for a robust and secure way to store my passwords, and secrets in general (SSH and GPG keys, personal files…)
There is one thing that bothered me in all the solutions I knew about, be it a software like KeePass, or a cloud solution like LastPass: if my computer is compromised at some point in time, it will be possible to extract all of my secrets when I open my vault to access one.
In that regard, a piece of paper in my wallet would be much more secure, as my computer would only know the secrets I copy over when I need them.
The only device solving that problem is the mooltipass, an external device containing all your passwords that can simulate a keyboard and type them when you need them. It's an interesting device, completely open source, and you should definitely check it out.
But there is an alternative I want to talk about, based on the well-known Yubikey, plus a combination of tools that fit all my needs, not only for storing password but also to connect to remote SSH servers and decrypt/sign PGP messages, while giving me strong security guarantees.
The solution¶
In the true Unix fashion, I use a combination of tools doing a simple job each. Let's start with the password manager:
GPG for your password manager: password-store¶
As you probably guessed in the title, it all rests on GPG and we'll see later how we secure these GPG keys.
But for now, let's introduce a tool called password-store.
It's a pretty simple wrapper around GPG (a bash script, in fact) that allows you to store each of your secret in a GPG-encrypted file.
The GPG key that you use for storing your password will be required each time that you access a password. Because it's public key cryptography, it means that you can create new passwords without needing to access your key!
In term of security, well, it's GPG. Each of your secret is stored in a file in your home directory, so it's up to you to do backups. But it's all neat and simple :)
zx2c4@laptop ~ $ pass
Password Store
├── Business
│   ├── some-silly-business-site.com
│   └── another-business-site.net
├── Email
│   ├── donenfeld.com
│   └── zx2c4.com
└── France
    ├── bank
    ├── freebox
    └── mobilephone

There are even browser extensions (firefox, chrome), to integrate password-store!
GPG for your SSH keys: gpg-agent¶
I also want to do a quick disgression, and tell you that you can use GPG not only to store your password, but to authenticate to remote servers.
Moreover, you can use key forwarding (so that in these servers, you can access the SSH keys from your local machine and connect to other machines in turn) without much risk of the server using them in your back: all the uses will require you to touch your Yubikey!
For example, I connect to my server using my Yubikey, and on that remote server I can copy files to another server, or push code to my git repository by touching my Yubikey too. For all that, I don't have to type a single password.
For that you need to replace your SSH agent by gpg-agent, it's all explained in the appendix.
Secure GPG key storage: Yubikey¶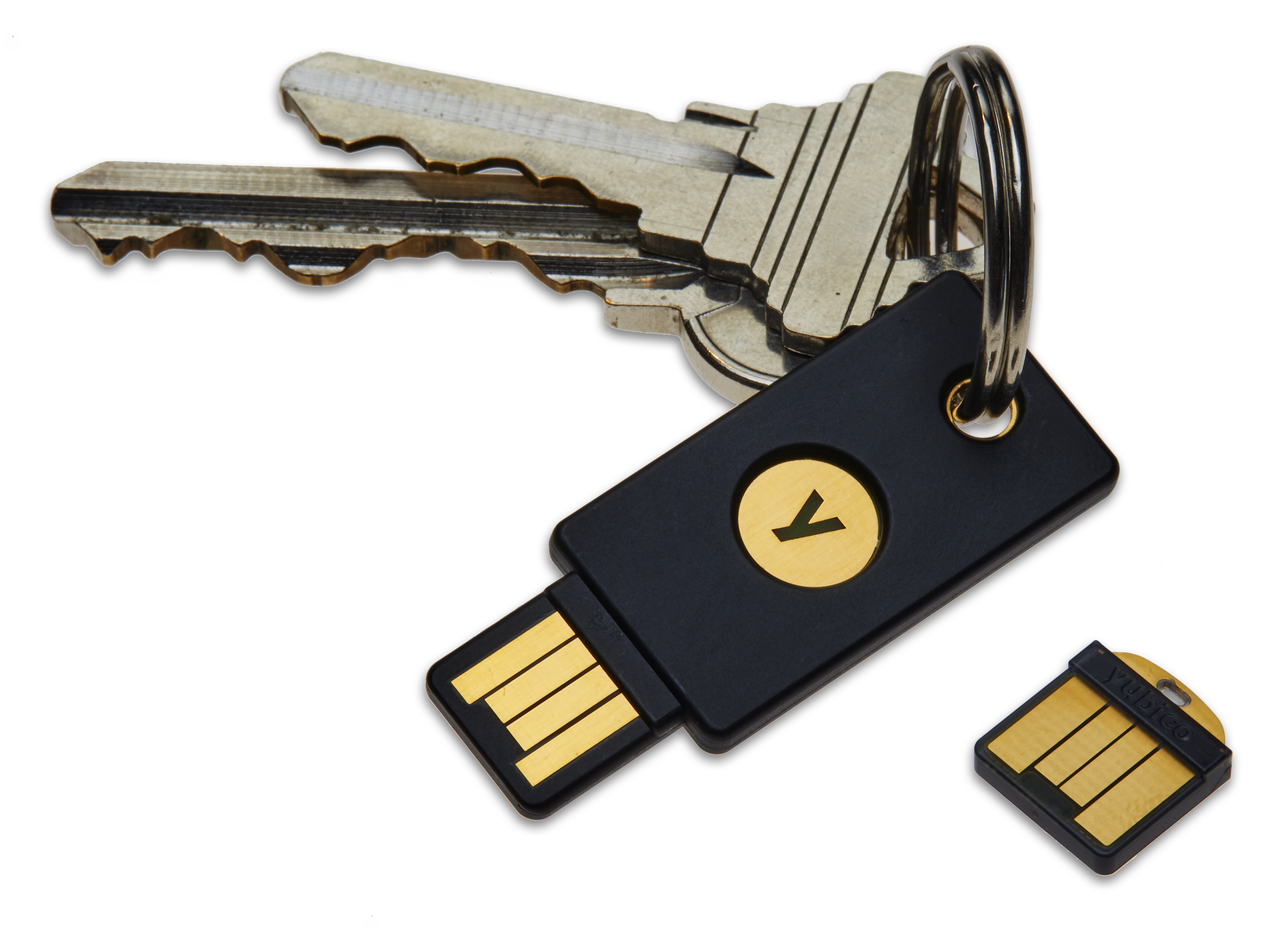 Some of you may already have heard of Yubikeys. The idea is to have a Yubikey storing GPG keys that you generated on an air-gapped computer.
It primarily serve for second-factor authentication, but here we will only focus on its GPG smartcard function.
Once you set it up, GPG will connect to your Yubikey each time it needs to access to your secret key. The Yubikey will do all the cryptographic work, so that your secret key never leaves it. In case your computer is compromised, an attacker can only use your secret key if your Yubikey is connected and unlocked.
This was not satisfying for me yet, because it meant that if I connect and unlock my Yubikey, a compromised computer can tell the Yubikey to decrypt all my secret files, connect to all my servers… without me noticing: pretty bad.
That's where the last generation of Yubikeys (Yubikey 4) have a feature that went relatively unpublicized: you can have them require the user to touch it everytime an operation on the secret key is requested. This means that it's impossible to access your secrets without you physically allowing it!
When combined with the tools above you will need to touch your Yubikey every time you want to access one of your password, decrypt or sign a GPG message, or connect to your server. Without you having unlocked, and touching your Yubikey, it becomes impossible to connect to your servers or access your passwords. Even if your computer is fully compromised.
Conclusion¶
I find this solution very secure, and quite easy to use and non-intrusive.
Also, to contradict the title of this article, here are a few security caveats I could think of:
Even though it's not possible to access your secrets, it's still possible to replace them, because the public key encryption doesn't require any secret. This could be fixed by forcing all your secret files to be signed by your secret key.

In case your computer is compromised, it could be possible to ask your Yubikey to do something else than what you intented, but then you would need to touch it twice, and will probably notice it :)

Oh, and sadly, the newer version of the Yubikey (the 4, with touch-to-sign) doesn't have an open source firmware…
But compared to the other solutions I know, I think these are quite minor, and that there is a much better security overall.